El Blanco Award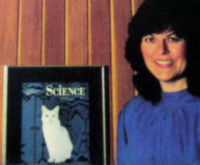 The El Blanco Award, one of the school's highest honors, annually recognizes significant contributions that animal owners and other benefactors have made to advance animal health and well-being. 
The award is named after a beloved feline companion El Blanco. Owner Cyndi Olson Glassauer was the first El Blanco Award recipient in 1994. Thanks to Olson Glassauer's support, researchers discovered the link between feline dilated cardiomyopathy, a grave heart ailment, and a dietary deficiency of the amino acid taurine. Adding taurine to commercial cat foods reverses the problem and saves thousands of pets' lives.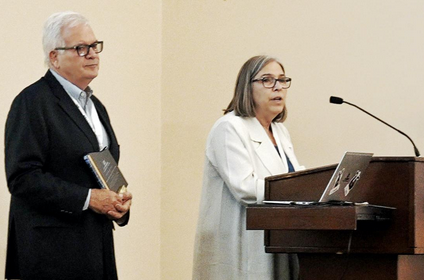 Valerie, Kristen, and Larry Casey, 2023
Past Recipients

2022 - David and Cheryl Duffield — in recognition of establishing the Maddie's Fund, making possible the world's largest lifesaving initiatives, like university shelter medicine programs and the Million Cat Challenge, as well as the support necessary to pilot small programs that have made tremendous impact.

Maddie was the Duffields' loyal and spirited Schnauzer, who demonstrated unconditional love and inspired their transformative idea. While playing together in the living room many years ago, they made her a promise. If they ever had the funds, they would use it to help companion animals and the people who love them. They wanted others to experience the same joy they had with Maddie. The Duffields kept their promise and have given more of their personal wealth to animal welfare than any other individual.

A champion for innovation and inclusion, Maddie's Fund provides animal shelters with a national voice, funding for bold ideas, learning resources and opportunities to collaborate and share strategies.

The Maddie's Fund support of the Koret Shelter Medicine Program at the Center for Companion Animal Health has helped UC Davis be the world leader in shelter medicine — and has saved countless lives of companion animals.

2021 - Wayne and Gladys Valley Foundation — in recognition for their transformative support and commitment to the school that has spanned generations. The Valley Foundation has made significant contributions to every aspect of veterinary medicine, advancing our ability to perform top-notch clinical care while providing the highest quality of veterinary education to our students.

The Valley Foundation and the people associated with it have been incredible partners and supporters. In 1998, our school faced a crisis. Despite being the leading veterinary school, we were placed on limited accreditation status because of major facility deficiencies. The Valley Foundation generously offered to help. With considerable charitable support, new teaching facilities were completed, and our school regained full accreditation status in 2005. Our main instructional building, opened in 2006, was named after Gladys Valley, who loved horses.  

Since that time, the Wayne and Gladys Valley Foundation has provided extensive additional support to the school. These gifts have supported all aspects, from facilities to research to disaster preparedness. Most recently, the foundation established a challenge grant to support the first phase of the Veterinary Medical Center campaign to include the Equine Performance Center and All Species Imaging Center.

2020 - Dean and Denise Tracy — in recognition of their kindness and deep compassion for animals. Special needs horses find a loving and forever home at Tracy Acres Equine Sanctuary. The Tracys fulfilled their dreams by establishing their sanctuary, rescue horses that often have come from a life of abuse and neglect. Most have arrived in poor condition — some blind, others starved with ribs protruding, while still others with complex medical conditions. Through their devoted care and kindness, they rehabilitated these horses, giving them a wonderful life and some a new beginning as therapy horses.

In 2016, they brought in for treatment their mini horse named Shrek, who had a growth on his jaw that was keeping him from eating. During his stay, the Tracys got to know the veterinary students well and noticed they were tired and hungry by day's end, often without a chance to eat dinner.

So, they brought dinner to them every day for the final three days of Shrek's treatment. They continued to bring dinner every Thursday evening for several years, until they moved their sanctuary to a location that was further away.

The Tracys believe in extending acts of kindness to change the lives of others. They contribute regularly to the Center for Equine Health's Equine Pay It Forward Fund by generously giving 10 percent of every donation their sanctuary receives. The Equine "Pay It Forward" Fund provides support for sick or injured horses who are seen at the UC Davis veterinary hospital and have a positive prognosis, but whose owners do not have the financial means to afford treatment. The Tracys have made a real difference in the lives of sick or injured horses.
 

2019 - Anna Zankel - Awarded in recognition of Anna Zankel's strong support of older rescue dogs and improvement of facilities in the hospital. Zankel cares tremendously about companion animals. She has been the driver and major donor to the Fango fund, a fund designed to pay for medical care for dogs 5 years old or older care for by regional rescue organizations. The Fango Fund covers expenses up to $7,000 for dogs looking for homes that have severe problems that would likely prevent them from being adopted.  - more

2018 - The DMARLOU Foundation

in recognition for their strong support of the school and clinical veterinary care. The foundation's longstanding commitment to animal health is demonstrated by their contributions to a number of animal service organizations in the San Francisco Bay Area including the Marine Mammal Center. Initial contact was made through a grateful client who knew of the foundation's mission and work. Once they learned of the school's cancer program and initiatives, the foundation stepped forward to provide significant funding to purchase the equipment needed to bring stereotactic radiosurgery to the clinic. This investment was a major achievement for the school, allowing the oncology faculty to advance this unique treatment option for our patients and catapult the service forward as a leader in the field. 

Tom and Julie Atwood

 in recognition of their generosity which has led to advances in clinical veterinary medicine and emergency response training, furthered scientific knowledge and genetic testing, and promoted private support for the school. The Atwoods have been clients of the VMTH for 30 years, supporting the education of veterinary students and residents while entrusting the care of their animals to our team of experts.



2017 - T.S. Glide Foundation - in recognition of the invaluable support provided for the education of veterinary students, and for the health and well-being of unwanted horses. For more than 25 years, faculty, residents and students have participated in the health care of the 90 horses, donkeys and other animals residing at their rescue facility just outside of Davis.

2016 - Bob and Colleen Haas - in recognition of the program changing support they have provided that will have a lasting impact on the School's ability to advance veterinary medicine, as well as their committment to seeing the veterinary profession become more diverse with a recruitment scholarship to attract underserved students in the profession.

2015 - Pam Green – in recognition of her on-going generous support of the school's animal health programs, clinical trials and hospital patients.

2015 - Nicoli and Barbara Nicholas Sr., Nicoli Nicholas Jr., and the Nicholas Livestock Co – in recognition of their contributions to clinical veterinary medical education of DVM students and residents for more than 50 years.

2014- Susan Koret and the Koret Foundation - In recognition of their long standing support of the School, our shelter medicine programs, and the Center for Companion Animal Health.

2013 - Ron and Sara Malone - In recognition of long-term support of the School, clinical research programs, and the Center for Equine Health.

2012 - Denise Powell - In recognition of her contributions and dedication towards eliminating hyperuricosuria in Dalmatians. 

2011 - Dick and Carol Randall - In recognition of their vision and support for the creation of the CEH Stem Cell Regenerative Medicine Group. 

2010 - Cornell and Terri Kasbergen and Rancho Teresita -  In recognition of their Contributions in education and research that have advanced the health and well-being of dairy cattle.

2009 - H.D. Plocher Family and Cache Acres Holstein - In recognition of their many contributions toward education and research that have advanced the health and well-being of dairy cattle.

2008 - Marcia J. Munro - In recognition of her many contributions to the Feline Familial Hypertrophic Cardiomyopathy Project.

2008 - Piet & Jack Beukelman - In recognition of their many contributions in education and research, that have advanced the health and well-being of dairy cattle.

2007 - Susan Evans - For her leadership, education and support resulting in the effective use of pacemaker therapy in animal patients.

2005 - Susan Solomon - In recognition of life-long commitment to the care and well-being of reptiles and efforts with rescue, rehabilitation and relocation of these special animals.

2003 - Kathleen Doyle & Richard Cunningham -  In recognition of their assistance by enrolling their Connemara Pony, Oisin, in clinical trials to test an innovative vaccine for the treatment of skin cancer.

2001 - Sheila Cruickshank and Mr. & Mrs. Freid - In recognition their assistance with the first experimental pancreas transplantation procedure performed on dogs. Their unselfish act made significant contributions to science and enabled new opportunity to help animals and people with pancreatic dysfunction.

2000 - Charles Anderson - In recognition of the development of a unique large animal sling used in airlift rescues, recovery from anesthesia, surgery, and restraint.

1997 - Leo Grillo - In recognition of his significant contributions in fostering the development of a model animal hemodialysis center, and support in creating a clinical fellowship in renal medicine and hemodialysis.

1997 - Doug Van Beek - In recognition of his significant contributions toward long term clinical research benefitting dairy cattle health.

1996 - Martin & Barbara Packard -  In recognition of their dedication and significant contributions to veterinary medicine and animal health resulting in advances in understanding and defining genetically based diseases in purebred dogs.

1995 - Cecil Johnson and Marco M. & Clair L. Porobich - In recognition of their significant contributions leading to the discovery of a DNA mutation that causes equine hyperkalemic heriodic haralysis.

1994 - Cyndi Olson Glassauer - In recognition of the significant efforts and outstanding contributions made by her and her cat El Blanco to the advancement of animal health and will-being in the discovery of taurine deficiency as the cause of feline dilated cardiomyopathy.