Zoetis Distinguished Veterinary Teacher Award
The Zoetis Distinguished Teaching Award is given to educators in recognition of their character and leadership qualities as well as their outstanding teaching abilities. Winners of the Distinguished Teacher Award are then evaluated annually to select the National Award winner.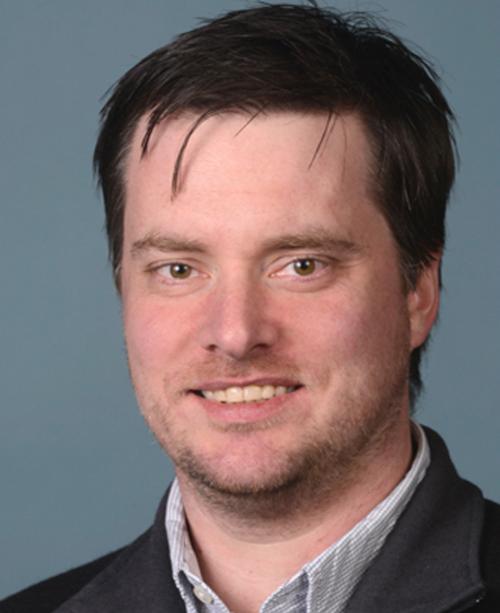 Kevin Woolard - 2020 Zoetis Distinguished Veterinary Teacher Award
Dr. Kevin Woolard is recognized for excellence in teaching pathology in the classroom and clinic. 
An Associate Professor in the Department of Pathology, Microbiology and Immunology, Woolard received his DVM (2003) and PhD (2011) from North Carolina State University. He completed an anatomic pathology residency at NCSU, and then research fellowships at the National Cancer Institute Neuro-Oncology Branch and the National Institute of Neurological Disorders and Stroke. Woolard became ACVP board certified in 2012 and joined our faculty in February 2013. 
Recipient of the 2020 Student AVMA Teaching Excellence Award, Woolard serves as faculty adviser for the Veterinary Pathology Student Club, is a co-block leader for Foundations (VET 410) and Cardiorespiratory (VET 408), and teaches in several other blocks in the DVM curriculum. His enthusiasm for teaching 4th year DVM students on the anatomic pathology rotation is widely recognized and his topic rounds, especially those focused on poultry and swine diseases in preparation for the NAVLE, are highly regarded. He is also regarded as an exceptional mentor and teacher in the Integrative Pathobiology graduate group. 
Woolard receives exceptional teaching evaluations with clear appreciation of his organization, ability to distill complex concepts, accessibility and his passion, enthusiasm, and sense of humor, which many students note engages them fully in his sessions. As a faculty colleague noted: 'Honestly you could throw a dart at any of his student feedback, for years running, and you will find that he always receives the highest possible evaluations, with gratitude for his time and clarity.' 
A student noted: 'Dr. Woolard is not only an incredible lecturer, but he also makes students feel intelligent, capable, and heard. He is highly approachable and is able to break down difficult concepts with ease and humor.' 
His contributions to resident teaching are equally superb, exemplified in this comment: 'He consistently and unfailingly sets aside extra hours to answer questions, review cases, and provide any and all support. The best part about meeting with him is that you are guaranteed to laugh almost the entire time –his ability to put us at ease and make us feel free to challenge, question, or debate is a remarkable gift.'
Past Recipients
(Formerly Carl J Norden; Smith-Kline Beecham; Pfizer Animal Health Distinguished Teacher Award)

2019  Lance Visser
2018  Stephen McSorley
2017  Claire Yellowley
2016  Jim Clark
2015  Brian Murphy
2014  Geraldine Hunt
2013  Matthew Mellema
2012  Fern Tablin
2011  Linda Barter
2010  Richard Nelson
2009  Birgit Puschner
2008  Janine Kasper
2007  David Maggs
2006  Walter Boyce
2005  Eric Herrgesell
2004  Lisle George
2003  Barry Ball
2002  Gary Carlson
2001  Robert Hansen
2000  Rick LeCouteur
1999  Pat Conrad
1998  Jan Ilkiw
1997  Mary Christopher
1996  Sue Stover
1995  Charlie Plopper
1994  Tony Stannard
1993  Jim MacLachlan
1992  Dwight Hirsh
1991  Roy Bellhorn
1990  Ed Feldman
1989  David Wilson
1988  Michael Bruss
1987  Lisle George
1986  Brad Smith
1985  Steve Haskin
1984  Robert Bondurant
1983  Roy Pool
1982  George Cardinet
1981  Peter Suter
1980  Dwight Hirsh
1979  John Hughes
1978  Ralph Kitchell