Zoetis Distinguished Veterinary Teacher Award
The Zoetis Distinguished Teaching Award is given to educators in recognition of their character and leadership qualities as well as their outstanding teaching abilities. Winners of the Distinguished Teacher Award are then evaluated annually to select the National Award winner.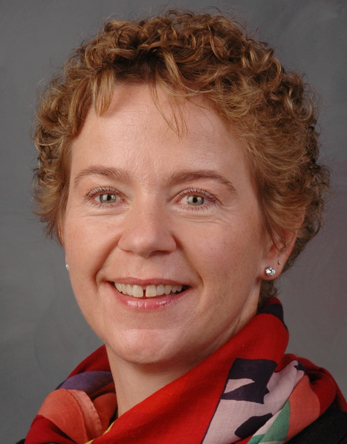 Dr. Verena Affolter was recognized with the 2021 Zoetis Distinguished Veterinary Teacher Award for excellence in teaching pathology and dermatopathology in professional and graduate clinical programs.
A professor in the Department of Pathology, Microbiology and Immunology, Affolter received her DVM (1982) from University of Bern and PhD (1999) from UC Davis. She is a Diplomate of the European College of Veterinary Pathology (ECVP), began teaching at the SVM in 1997, and joined the faculty in 2005.
Affolter is a co-block leader for Skin Block (VET 411) and Comparative Medicine Stream (VET 432A/B/C) and teaches in several other blocks in the DVM curriculum. Students remark that she provides detailed notes with each slide and how helpful that is. There is a theme throughout the comments, from students who claim a lack of interest in histology, that when Affolter is teaching, they find it both interesting and fun.
Affolter has a major role in the clinical instruction of fourth year veterinary students in pathology. The comments from students are overwhelmingly positive and reflect superlative dedication and passion. One student commented, "I really loved having Dr. Affolter on as she made pathology seem less intimidating. I felt encouraged to voice ideas and opinions and never felt discouraged even when I was wrong."
In addition to creating a safe and encouraging learning climate, there are two adjectives used to describe Affolter that appear with very high frequency: enthusiastic and engaged.
Affolter has held weekly dermatopathology rounds since 1997 and has served as faculty lead for the weekly biopsy conference since 2004. When reviewing comments provided by graduate clinical trainees, the profoundly positive nature of feedback is impressive. Residents describe Affolter as "fair, understanding and caring" and comment that she "never makes me feel stupid and encourages me to really investigate."
Our integrative block curriculum at Davis requires that some instructors step up to lead large teams of faculty to organize, integrate, deliver and assess course content. Affolter provides leadership in multiple courses and her faculty colleagues comment on the outstanding quality, quantity and effectiveness of her clinical and didactic instruction. Adjectives used to describe her course leadership are proactive, collaborative and exemplary.
Past Recipients
(Formerly Carl J Norden; Smith-Kline Beecham; Pfizer Animal Health Distinguished Teacher Award)

2020 Kevin Woolard
2019  Lance Visser
2018  Stephen McSorley
2017  Claire Yellowley
2016  Jim Clark
2015  Brian Murphy
2014  Geraldine Hunt
2013  Matthew Mellema
2012  Fern Tablin
2011  Linda Barter
2010  Richard Nelson
2009  Birgit Puschner
2008  Janine Kasper
2007  David Maggs
2006  Walter Boyce
2005  Eric Herrgesell
2004  Lisle George
2003  Barry Ball
2002  Gary Carlson
2001  Robert Hansen
2000  Rick LeCouteur
1999  Pat Conrad
1998  Jan Ilkiw
1997  Mary Christopher
1996  Sue Stover
1995  Charlie Plopper
1994  Tony Stannard
1993  Jim MacLachlan
1992  Dwight Hirsh
1991  Roy Bellhorn
1990  Ed Feldman
1989  David Wilson
1988  Michael Bruss
1987  Lisle George
1986  Brad Smith
1985  Steve Haskin
1984  Robert Bondurant
1983  Roy Pool
1982  George Cardinet
1981  Peter Suter
1980  Dwight Hirsh
1979  John Hughes
1978  Ralph Kitchell