Zoetis Distinguished Veterinary Teacher Award
The Zoetis Distinguished Teaching Award is given to educators in recognition of their character and leadership qualities as well as their outstanding teaching abilities. Winners of the Distinguished Teacher Award are then evaluated annually to select the National Award winner.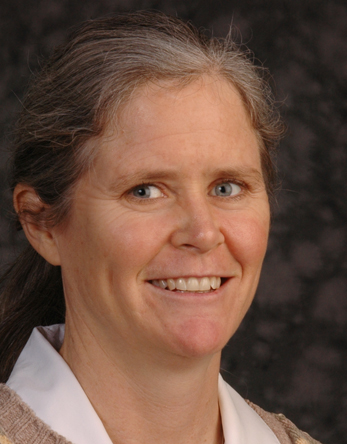 Dr. Barbara Byrne was recognized with the Zoetis Distinguished Veterinary Teacher Award for sustained excellence in teaching microbiology in the classroom and clinic, and exceptional dedication to the student experience in veterinary medical education.
A Professor of Clinical Microbiology in the Department of Pathology, Microbiology and Immunology, Byrne received her DVM (1987) at Colorado State University and PhD (1998) from Washington State University.  She completed a residency at The Ohio State University, and is board certified in both LA Internal Medicine and Veterinary Microbiology. Byrne joined our faculty in 2003 and is a Fellow of the West Region Consortium of Colleges of Veterinary Medicine Teaching Academy since (2015).
Serving as a Block Leader for the Infectious Disease and Immunology Course in the second year, Byrne's contributions are appreciated by students and faculty colleagues alike. Her instructor evaluations by students are uniformly excellent, filled with superlatives and consistently reference her care for both their learning and their well-being.  One student commented, "Thank you so much for always caring about our well-being! It feels like you genuinely care and it is extremely motivating."
Another student noted, "She was not only an amazing lecturer but also was extremely helpful in raising the students' morale and understood that after all the information that was given, how difficult it was for students to keep up with material. She has a knack for explaining concepts easily, always emphasizes the important take-home points, and is an extremely enthusiastic lecturer. Even though I do not enjoy material for large animal, I would always look forward to her lectures as they were informative and well put."
Faculty who teach with Byrne attest to her active engagement in the development of teaching methods, time spent assisting colleagues with instructional materials, feedback on student evaluations and the continuous improvement of our curriculum.  Many colleagues comment that she sits in on their lectures to ensure that her integration of material in that class or block is seamless and consistent. This level of selfless devotion to the curriculum and to her faculty colleagues, is deeply appreciated.
Past Recipients
(Formerly Carl J Norden; Smith-Kline Beecham; Pfizer Animal Health Distinguished Teacher Award)

2021 Verena Affolter
2020 Kevin Woolard
2019  Lance Visser
2018  Stephen McSorley
2017  Claire Yellowley
2016  Jim Clark
2015  Brian Murphy
2014  Geraldine Hunt
2013  Matthew Mellema
2012  Fern Tablin
2011  Linda Barter
2010  Richard Nelson
2009  Birgit Puschner
2008  Janine Kasper
2007  David Maggs
2006  Walter Boyce
2005  Eric Herrgesell
2004  Lisle George
2003  Barry Ball
2002  Gary Carlson
2001  Robert Hansen
2000  Rick LeCouteur
1999  Pat Conrad
1998  Jan Ilkiw
1997  Mary Christopher
1996  Sue Stover
1995  Charlie Plopper
1994  Tony Stannard
1993  Jim MacLachlan
1992  Dwight Hirsh
1991  Roy Bellhorn
1990  Ed Feldman
1989  David Wilson
1988  Michael Bruss
1987  Lisle George
1986  Brad Smith
1985  Steve Haskin
1984  Robert Bondurant
1983  Roy Pool
1982  George Cardinet
1981  Peter Suter
1980  Dwight Hirsh
1979  John Hughes
1978  Ralph Kitchell