VMTH 
Faculty Clinical Excellence Award
This award, first awarded in 2014, was established to honor professorial or staff veterinarians at the VMTH who demonstrate exceptional, sustained, and significant achievements in patient care, clinical instruction, and advancing clinical veterinary medicine. It recognizes veterinarians whose ability, dedication, character, and leadership contribute significantly to the excellent reputation of VMTH clinical programs.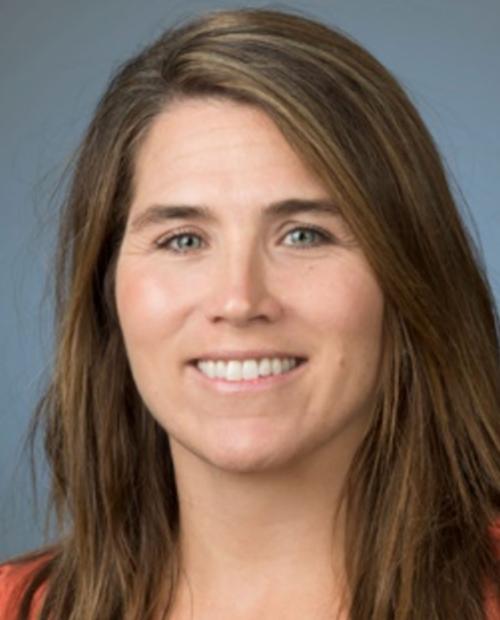 Dr. Kathy Koehler Good - 2021 VMTH Faculty Clinical Excellence Award
Dr. Kathy Koehler Good was recognized with the  2021 Clinical Faculty Excellence Award for clinical excellence in ophthalmology. 
A professor in the Department of Surgical & Radiological Sciences, Good received her DVM (1998) from UC Davis, completed a small animal internship at the University of Florida and an ophthalmology residency at UC Davis. A diplomate of the American College of Veterinary Ophthalmologists (2002), Good joined our faculty in 2008.
As Service Chief, Good provides remarkable cohesiveness, achieving balance between varying faculty interests to ensure delivery of outstanding patient care in ophthalmology, excellent clinical instruction, and operational efficiency to a degree where the Ophthalmology Service is widely appreciated as a model clinical service. Her faculty colleagues applaud her leadership and extraordinary commitment to excellence managing the service. Despite a 60% faculty appointment, she does this tirelessly, every day of her clinical year, and with professionalism, always being an exemplary role model.
A truly gifted clinical instructor with an unparalleled ability to mentor residents and teach students, Good consistently earns laudatory comments for her teaching, extensive clinical knowledge, delivery of state-of-the-art treatments, and compassionate care of her patients and clients. Good achieves what many aspire to, but few accomplish - an ability to both instruct through her words and her actions. Students regard Good as an absolutely outstanding role model - someone they aspire to be. In the end, that is the highest praise any clinical instructor can receive. Her expertise in glaucoma surgery and acquisition of cutting- edge equipment has dramatically expanded the diagnostic and therapeutic capabilities.
As one of her colleagues commented: "Kathy is one of the finest general ophthalmologists I know. While many of us have chosen to pursue surgical or medical approaches or confine our major atten- tion to more specific tissues or diseases, Kathy is a fine ophthalmic microsurgeon, a thoughtful and a contemplative medical ophthalmologist who is as comfortable delicately lasering a retinal detachment as she is tailoring a brilliantly conceived medical management plan for a cat with chronic conjunc- tivitis. Against this extraordinary breadth and depth of expertise, she is also the go-to person for all laser procedures, glaucoma shunt (valve) placement procedures, and challenging third eyelid gland replacement surgeries in those patients undergoing their umpteenth surgical redo. Quite frankly, she is who I would have treat my pet."
Past Recipients of the SVM Faculty Clinical Excellence Award
2020   Dr. Steven Epstein
2019    Marguerite Knipe
2018    Ray Wack
2017    Verena Affolter
2016    Jorge Nieto
2015    Gary Magdesian 
2014    Bev Sturges