Staff Awards
Every great institution relies upon the staff, the unsung heroes, for their daily help and commitment to the overall missions, programs and services to be successful.  The School of Veterinary Medicine is no exception.  The dedication of our staff team, more than 1,000 individuals, who every day provide patient care, teaching support, laboratory assistance, administrative service and much, much more is greatly appreciated by the faculty and students.  Their individual and group contributions and expertise are proudly acknowledged through a variety of School, University and professional organizations.
Vet Med Central Services Receives Kimberly-Clark Greenovation Award
U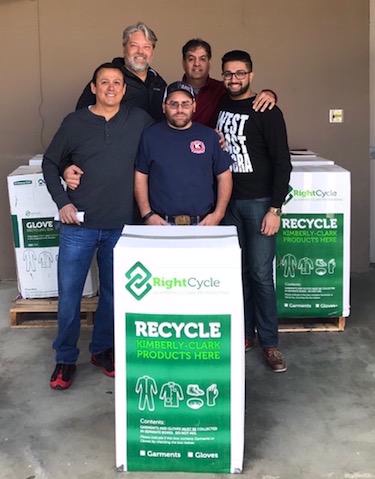 C Davis Vet Med Central Services received the K-C Chelsea Santucci Greenovation Award for leadership in landfill diversion. They achieved one of the highest national metrics in the nitrile glove RightCycle program. The VM Central Services team led by Patrick Van Dyke, as well as the participating researchers and lab teams, will be recognized for their partnership to divert nitrile glove disposal from the landfill.
RightCycle by Kimberly-Clark Professional is a groundbreaking service that allows customers the ability to divert nitrile glove and single-use protective apparel waste generated in laboratory research and manufacturing arenas from the landfill to a second consumer life. By recycling those products that are then used to manufacture eco-friendly consumer goods, the program helps participants to reach sustainability and zero-waste goals, and encourages eco-responsible habits.
In 2016, UC Davis Vet Med Central Services recycled 6500 pounds, or 3.0 metric tons, of glove waste, among the highest totals of participating universities in the country. This leadership has been a consistent hallmark of the UC Davis research community as the university has won a Greenovation Award four of the five years of its participation. To find out how your lab can participate in the KC glove recycling program, check out this link for information and a special promotion for a limited time.
The Greenovation Awards, established in 2013, were renamed in 2015 in honor of Chelsea Santucci, a Kimberly-Clark Professional employee who passed away from cancer at age 26. Chelsea was passionate about sustainability and instrumental in the creation of The RightCycle Program. Her legacy lives on through these awards and enables Kimberly-Clark Professional to recognize those organizations who diverted the largest volume of glove and apparel waste each year. 
The Vet Med Central Services team will receive a framed certificate to recognize their achievement. Congratulations team vet med!