Faculty Distinguished Teaching Award
This award is intended to publicly acknowledge the tremendous effort on behalf of our faculty in teaching professional DVM students, graduate professional MPVM students, graduate academic students and/or residents. We wish to recognize those individuals who distinguish themselves as outstanding teachers.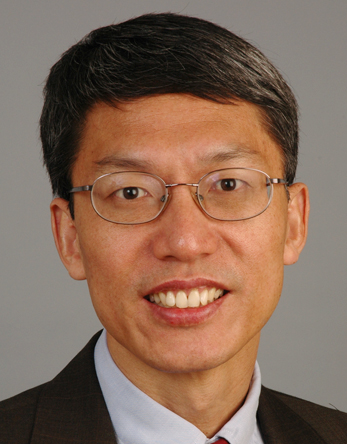 Dr. Xinbin Chen was recognized with the 2021 Distinguished Faculty Teaching Award for excellence in mentoring and training undergraduate and graduate students, postdoctoral fellows, and junior faculty; contributions to the teaching mission of the School; and successful support for, and leadership of, the Veterinary Scientist Training Program (VSTP), locally and nationally.
Director of the VSTP program and a Professor in the Department of Surgical & Radiological Sciences, Chen received his veterinary degree from Anhui Agricultural University (1982), MS (Microbiol- ogy) from Nanjing Agricultural University (1985), and PhD (1991) from Michigan State University. He was recruited in 2007 to lead the School's Veterinary Oncology Program and later the Comparative Oncology Program at the UC Davis Comprehensive Cancer Center.
Internationally recognized for his expertise in developmental and cancer biology, especially the molecular genetics of cell cycle arrest, apoptosis and senescence, Chen's investment in, and contributions to mentoring of trainees and junior faculty is exceptional. Working with the Director of Educational Enrichment and Outreach Programs, he designed research projects for undergraduate students from URM backgrounds to support and foster their interest in careers in medicine or medical research.
Chen participates in DVM (VET 412) and graduate (PMI 201) instruction. His leadership of VSTP has been outstanding and he is a committed champion of diversity, equity, and inclusion. Since 2015, the program has recruited 21 highly qualified students, including 6 representing URM groups. Chen spearheaded efforts to establish the National VSTP Association, which affords students from 14 veterinary colleges with DVM/PhD training programs an opportunity to interact with their peers and present at the annual National Veterinary Scholars meeting.
Chen also understands the importance of support for growth of a successful VSTP program. Together with Associate Dean Isaac Pessah, he successfully competed for the NIH Medical Scientist Training Program Grant (T32) that provides 5 years of funding supporting 5 DVM/PhD students. He also collaborated with colleagues on a National Cancer Institute (NCI) Training grant supporting 1 DVM/PhD student, 3 DVM graduates, and 1 MD graduate to work in comparative oncology. Dr. Chen is co-PI for the NIH T32 program and has mentored 6 DVM students, who successfully competed for fellowships and had positive research experiences in his lab.
Finally, Chen understands the need to support junior faculty. He is a creative and dedicated mentor who has successfully sponsored 3 SVM faculty for NIH K awards. One mentee put it well, "Dr. Chen's vision and encouragement, his generosity with his time and resources have enabled my scientific growth and development.....commitment to his mentees, at all stages of training, cannot be overemphasized. Dr. Chen's consistent open-door policy made it easy for me to trust him."
Past Recipients

2020   Woutrina Smith
2019    Kate Hopper
2018    David Maggs
2017    Patty Pesavento
2016    Bill Vernau
2015    Julie Dechant
2014    Joie Watson
2013    Munashe Chigerwe
2012    Christine Kreuder Johnson
2011    Steven Hollingsworth
2010    Alan Conley
2009    Phil Cass
2008    Bob BonDurant
2007    David Hird
2006    Kent Pinkerton
2005    Irwin Liu
2004    Rance LeFebvre
2003    Robert Higgins
2002    Gerald Ling
2001    Jim Jones
2000   Joe Zinkl
1999    Philip Koblik
1998    Ian Gardner
1997    Thomas Farver
1996    Niels Pedersen
1995    Peter Ihrke
1994    Not Awarded
1993    Not Awarded
1992    George Stabenfeldt