Rob Warren, VMTH Communications and Marketing, was recently recognized for his outstanding efforts to coordinate the school's activities, demonstrations, tours, booths, displays and volunteers for the veterinary medicine open house associated with Picnic Day. He worked tirelessly for weeks in advance to oversee arrangements and prepare materials, displays and videos for use at the event. He not only led the initiative for planning and implementation, but provided extensive publicity and marketing of the day's activities in advance and on the day of the event.
"Rob's professionalism, planning and dedication were critical to the success of this event."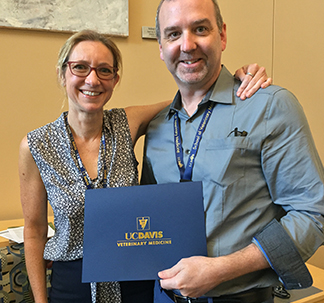 Dr. Jane Sykes presents Rob Warren with his award.