School Distinguished Service Award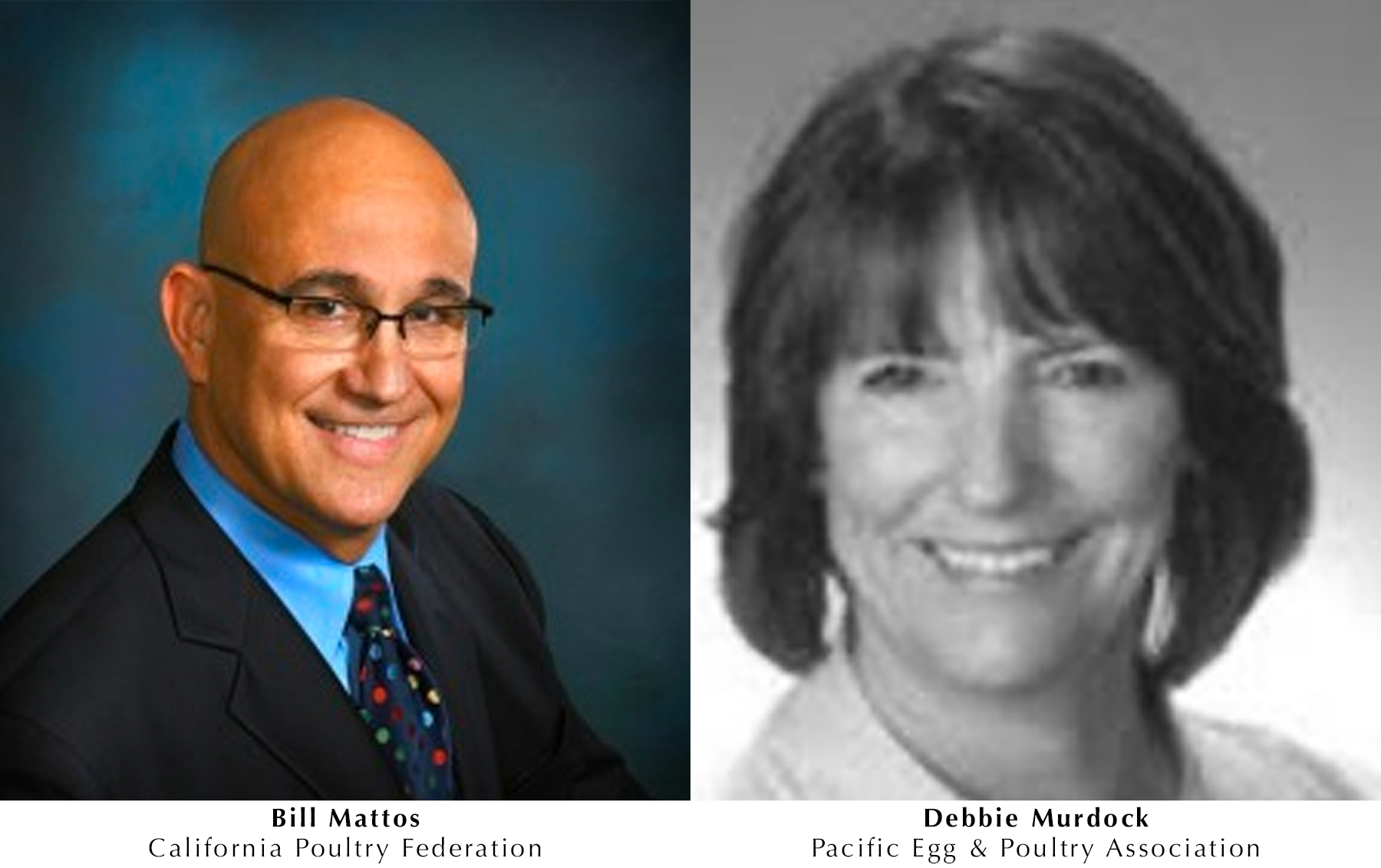 We recognize the California Poultry Federation (CPF) and Pacific Egg & Poultry Association (PEPA) with UC Davis School of Veterinary Medicine 2020 Distinguished Service Awards in recognition of their sustained support of the School's poultry programs in furthering our mission. 
CPF and PEPA were instrumental in developing and facilitating ground-breaking Quality Assurance programs to safeguard poultry and egg products in California. For over 20 years, both have provided programmatic oversight, bringing industry, government and academia, together for research, workshops, and seminars for industry members. 
Organizations are only as good as their executive leadership and the industry board members they represent. Bill Mattos (CPF) and Debbie Murdock (PEPA) are both outstanding professionals. Debbie and Bill communicate quickly with their members, organize a response, and get things done - testament to their leadership and to their organizations. Their executive position longevity reflects the confidence of their industry leaders. Both organizations provide regular opportunities for our faculty to give updates to their Boards and members on key issues impacting their stakeholders. They are strong supporters of education, attracting younger generations to poultry and poultry associated disciplines, with stipends for young students and scholars. 
CDF and PEPA have been strong partners with our School providing substantial support for the past nine years for a faculty position in poultry, ensuring that the School had continued expertise in poultry medicine and research complementing our California Animal Health & Food Safety Laboratory System (CAHFS) avian diagnosticians and poultry Specialist in Cooperative Extension. Debbie and Bill have been key supporters of CAHFS; and specifically strong advocates for the new Tulare and Turlock branch laboratories. They were instrumental in building local coalitions for support and facilitated meetings with Central Valley political and industry leaders. Likewise, both organizations have been instrumental in providing support during negotiations that directly enhanced CAHFS' budget. They have been influential in the Coryza Task Force - an industry, university, state government partnership, with the common goal of understanding this re-emerging disease challenge through innovative research to develop solutions for the poultry industry. 
Past recipients
2019
Tom Campi

2018
Bill and Lannie Hoglund
Jo Cowen

2017
Jim Delano
Barbara J. Kerr

2015
Jan and Dale Davis

2014
John Maas

2013
Ellen Jackson
Murray Gardner

2012
Ron Foster

2011
Ron McDowell

2009
Lou Gatto
Stephen Griffey, DVM, PhD
Jon Klingborg, DVM
Kelly Nimtz
Peter Weinstein, DVM, MBA
Stuart Yasgoor

2008
Pam Green
Ben Norman
Mark Robinson
Tom Kendall
Steve Crow
Cheryl Scott
Phillip & Karen Drayer

2006
Vincenzo Caporale

2005
Ann Venneman
Mary S. Seawright
Eve Lloyd Thompson
Lander Veterinary Clinic

2004
Dick Schumacher

2002
Jack O. Walther

2001
Joseph W. Harper

1999
William Balaban
John Harris

1998
William Utterback

1997
California Raptor Center (Volunteers & Staff)
Robert L. Leighton
John L. Mora