2018 El Blanco Award Recipients
"These visionary partners have helped our programs across the board, advancing teaching, patient care and the discovery of new knowledge." - Dean Michael Lairmore
The DMARLOU Foundation - in recognition for their strong support of the school and clinical veterinary care. The foundation's longstanding commitment to animal health is demonstrated by their contributions to a number of animal service organizations in the San Francisco Bay Area including the Marine Mammal Center. Initial contact was made through a grateful client who knew of the foundation's mission and work. Once they learned of the school's cancer program and initiatives, the foundation stepped forward to provide significant funding to purchase the equipment needed to bring stereotactic radiosurgery to the clinic. This investment was a major achievement for the school, allowing the oncology faculty to advance this unique treatment option for our patients and catapult the service forward as a leader in the field. -more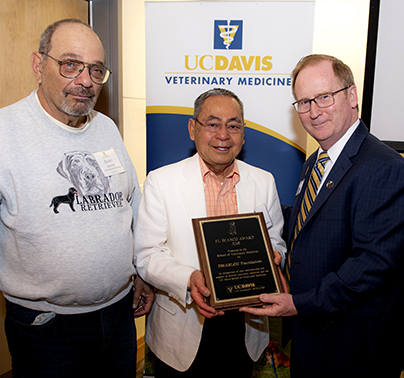 Barry Joseph and Felipe Santiago accept the El Blanco Award for the DMARLOU Foundation.
Tom and Julie Atwood - in recognition of their generosity which has led to advances in clinical veterinary medicine and emergency response training, furthered scientific knowledge and genetic testing, and promoted private support for the school.
The Atwoods have been clients of the VMTH for 30 years, supporting the education of veterinary students and residents while entrusting the care of their animals to our team of experts. -more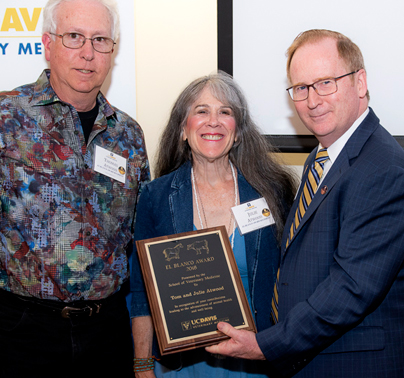 Tom and Julie Atwood receive the El Blanco Award from Dean Michael Lairmore.