Ron McDowell
Dean Michael Lairmore has presented the School of Veterinary Medicine Distinguished Service Award in memory of the late Ron McDowell of Eastsound, Washington.
McDowell, with the School of Veterinary Medicine, established the SeaDoc Society at the school's Wildlife Health Center in 2000.
From a regional headquarters on Orcas Island, Washington, under the leadership of Regional Director and Chief Scientist Joe Gaydos, the SeaDoc Society addresses marine ecosystem health in the Salish Sea. This area encompasses Washington's Puget Sound, the Strait of Juan de Fuca and the San Juan Islands as well as British Columbia's Gulf Islands and the Strait of Georgia. The organization is a core wildlife and ecosystem health program of the Wildlife Health Center.
McDowell also established the Pacific Northwest Fund, an endowment that supports the SeaDoc Society in perpetuity.
The award recognizes McDowell and his wife Kathleen Dickinson McDowell's vision, funding commitment and steadfast involvement. All of those traits have been essential to the early and ongoing success of SeaDoc. The organization is now a regional science and One Health leader in the Pacific Northwest and a model for other marine ecosystem health programs around the world.
McDowell served on SeaDoc's board of directors, built collaborations with other researchers and agencies, and facilitated strategic meetings of scientists and resource managers to tackle marine ecosystem health issues. He assisted with fundraising activities, including hosting with Kathleen an annual wine auction at their home that has become the SeaDoc's signature fundraising event. 
McDowell's wife, along with his mother Kay, accepted the honor in his name at a ceremony attended by SeaDoc Society members, veterinary faculty, residents and graduate students of the school.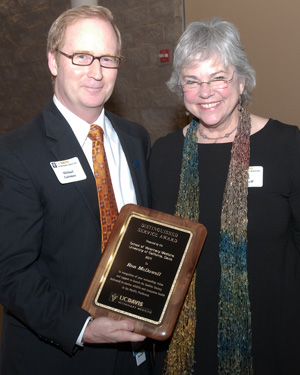 Dean Lairmore and Kathy McDowell