Rachel Smith Award
Rachel Smith was the lead staff member in the VMTH Clinical Pathology Laboratory for many years.  She worked side-by-side with Dr. Oscar Schalm to develop the field of veterinary hematology.  In 1985, on the occasion of Rachel Smith's retirement, it was decided to establish an annual award in her name.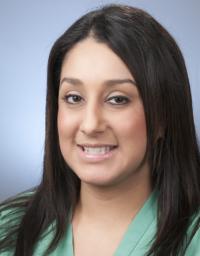 2021 Rachel Smith Award Recipient
Brenda Keegan (Emergency and Critical Care Service)
Brenda Keegan is a dedicated team member, filling in extra shifts when short staffed and leading by example every step of the way. As a service manager, she is an open, positive communicator and is gifted in her ability to keep team members focused on the task at hand. Brenda is devoted to the success of her team and patient care throughout the hospital. As a highly skilled technician, is a wonderful asset to students, welcoming them to a potentially intimidating environment and taking time to explain aspects of their cases; students learn that she is one of the "go-to" people in the hospital.
Previous Recipients

2020 - Sarah Blasczynski
2019 - Jason Peters
2018 - Valerie Wiebe
2017 - Stacy Zindel
2016 - Janette Barrango
2015 - Denise Berger and Matt Nichols
2014 - Gigi Remark and Eileen Samitz
2013 - Monica Kratochvil and Kristina Palmer
2007 - Becky Griffey and Bill Perkins
2006 - Delaina Matz and Cheryl Stafford
2005 - Esther Finn and Greg Hanson
2004 - Dave Carrion and Betty Thompson
2003 - Eric Simonson
2002 - Richard Morgan
2001 - Jane Gunderson
2000 - Doug West
1999 - Craig Cornell
1998 - Tom Baker
1997 - Darlene Riel
1996 - Mari-Ann Green
1995 - Mike Reis
1994 - Harold Davis
1993 - Manuel Carillo
1992 - Cindy Savely
1991 - Valerie Johnson
1990 - Fred Librach
1989 - Moira Fitzgerald and Spencer Jang
1988 - Gibson Reid
1987 - John Neves
1986 - Roberto Flores