AAVMC Excellence in Research Award
In 2011, the American Association of Veterinary Medical Colleges (AAVMC) established the AAVMC Excellence in Research Award to recognize outstanding research and scholarly achievements in the field of veterinary medicine. The award honors those who demonstrate excellence in original research, leadership in the scientific community, and mentoring of trainees and colleagues in any discipline of veterinary medicine. This award showcases the contributions of AAVMC member institutions to the scientific community, and the Award Committee seeks the most outstanding individuals for this recognition.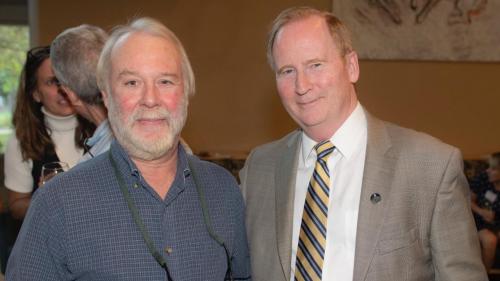 Peter Havel Honored with 2020 AAVMC Excellence in Research Award
Dr. Havel is a professor in the Department of Molecular Biosciences, School of Veterinary Medicine and the Department of Nutrition at the University of California, Davis, where his endocrinology and metabolism research investigates the causes and consequences of obesity, type 2 diabetes and related metabolic diseases. He has also studied the impact of bariatric surgery and consumption of high sugar (fructose) containing diets in both humans and animal models. This work laid the foundation to identify new interventions to manage obesity, diabetes and cardiovascular disease. Dr. Havel's research has tackled issues important to both human and animal health and played an important role in understanding the role of sugar-sweetened beverages in obesity, metabolic dysregulation and cardiovascular disease. He also serves as director of the Endocrinology and Metabolism Core for the UC Davis Mouse Metabolic Phenotyping Center.
Past recipients of the AAVMC Excellence in Research Award
2011 - Stephen Barthold, UC Davis School of Veterinary Medicine